Gogotte Nº 3, 90 x 96 x 39 cm
Judith Milberg, 'Orange Loop II', 2020, Pastel und coal on wooden panels, 3 parts, 175 x 150 cm
Special exhibition from July 25th 2021
Curator: Mon Muellerschoen
Napoleon collected them. The Sun King Louis XIV decorated Versailles with them. The Gogottes of Fontainebleau were carved out of the local sandstone by the forces of nature around 3o million years ago and appear to today's viewers like hypermodern, timeless sculptures. What is fascinating about them is that the Gogottes are found exclusively in this region, in Fontainebleau in France. A regional find that has fascinated us in its aesthetics for centuries. The Dinosaur Museum Altmühltal is now exhibiting the world's largest collection of these valuable rock sculptures outside of France for the first time, and is allowing them to correspond with contemporary works by the artist Judith Milberg.
In her work, Judith Milberg deals with the processes of how our world comes into being. "I try to make processes of the unimaginably small and intangibly large visible". In doing so, she embarks on a search for the mystery of all being and in her works she deals insistently with the interactions of earth-historical becoming. With great effort, charcoal and pigments are worked into paper, wood and natural canvas, resulting in surprisingly fine, powdery-delicate colour nuances. In this way, spaces of unique plasticity are created, which correspond in a mystical and yet independent way with the forms and riddles of these fantastic, nature-given sculptures, unique like the Gogottes themselves.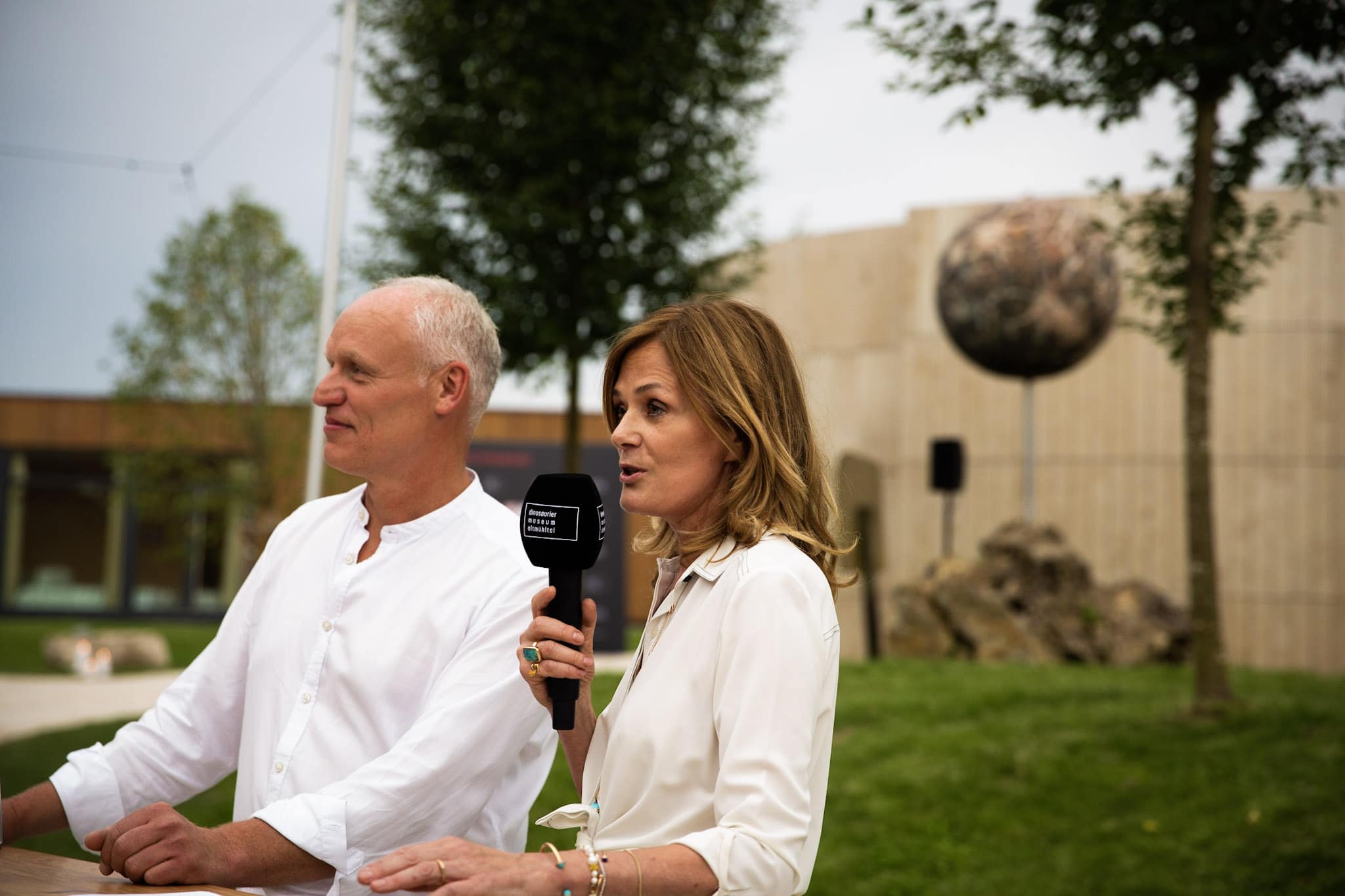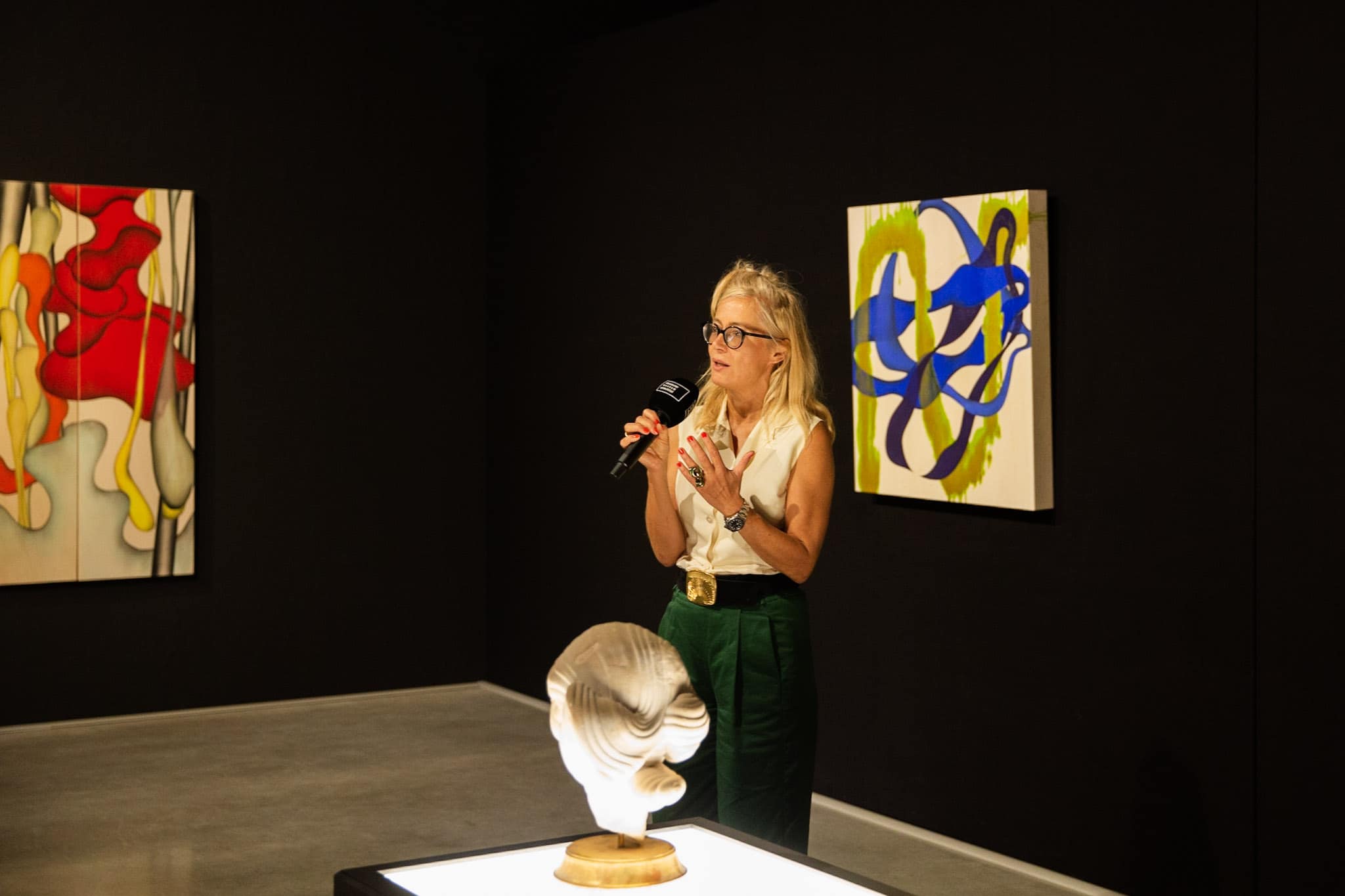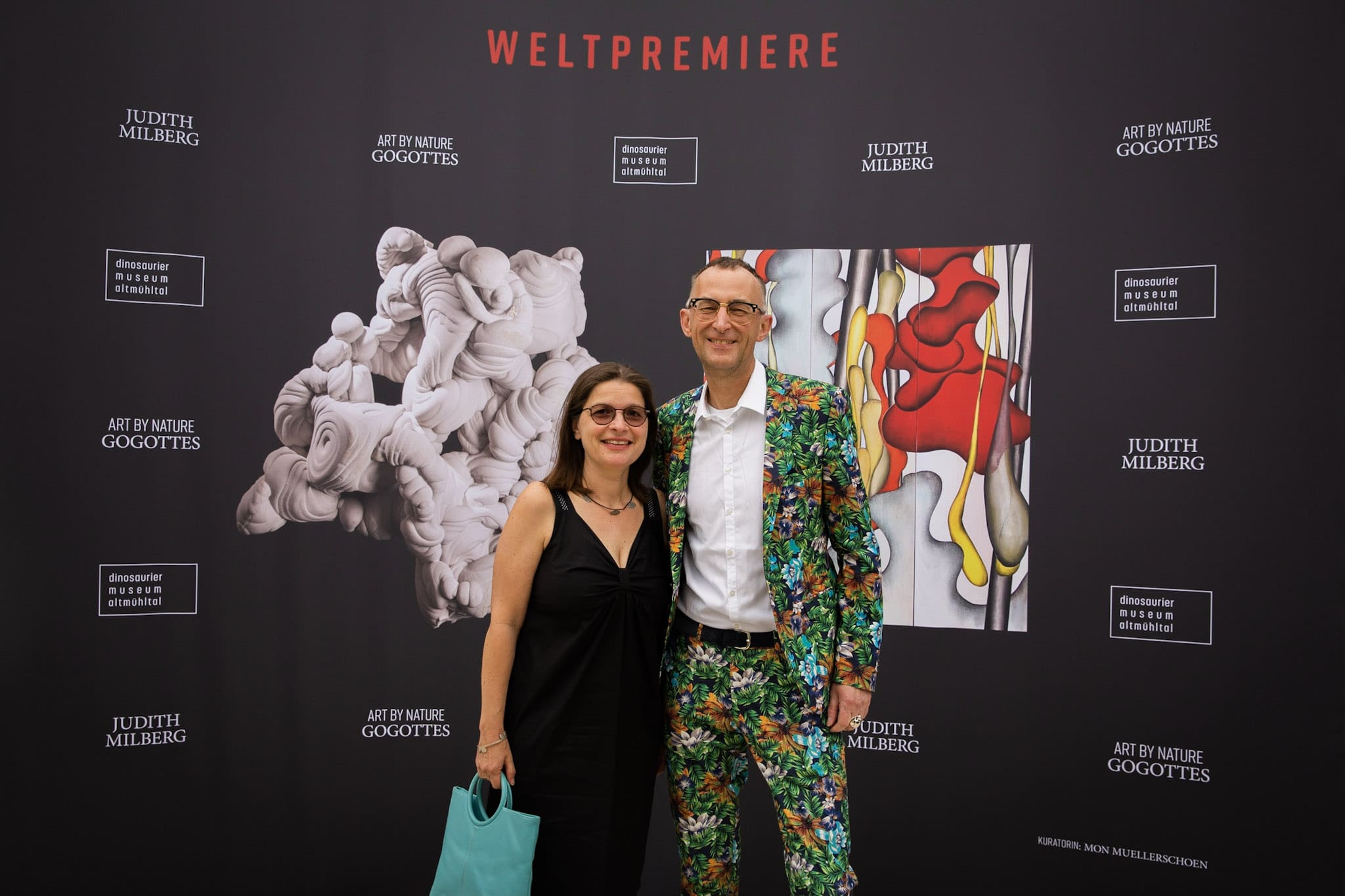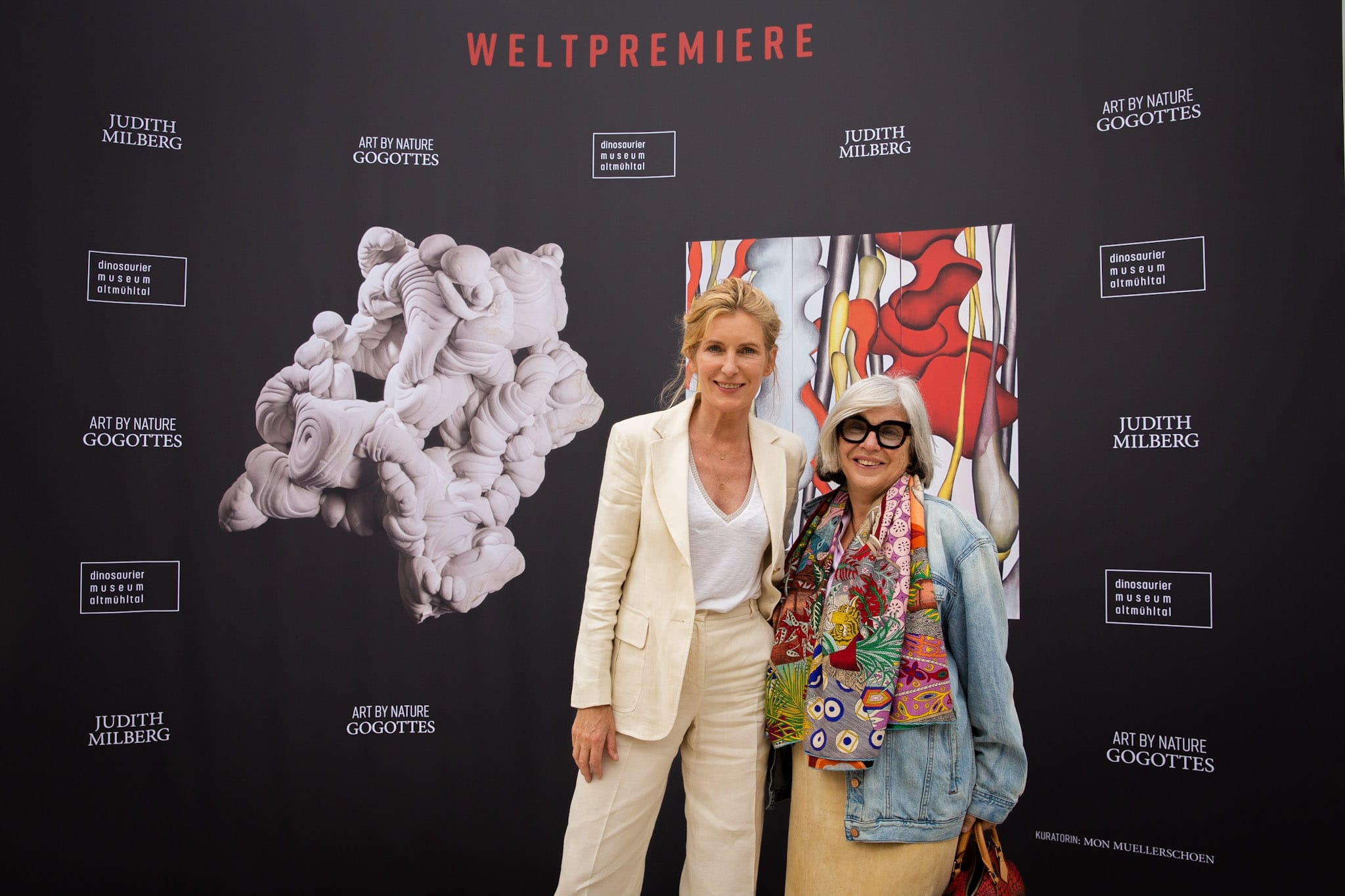 Photos: © Benjamin Hoffmeister, Dinosaurier Museum Altmühltal
Photo: © Sabine Brauer Photos
The festive exhibition opening was attended by various personalities from art and culture, including actress Maria Furtwängler and actor Axel Milberg, the Director General of the Bavarian National Museum Dr. Frank Matthias Kammel, Annette Heuser from the Otto Beisheim Foundation, Steffi Czerny, founder of DLD, and Marianne Wille, Dallmayr Kaffee.
A dream start on a summer night: the exhibition "The Gogots and Judith Milberg" was opened with a ceremony on Saturday evening, 24 July 2021, at the Dinosaur Museum Altmühltal. In a world premiere, the museum brings together the largest collection of the sandstone formations called "Gogottes" with works of art by Munich artist Judith Milberg. "This is a unique symbiosis of nature and art," said the founder of the Dinosaur Museum Altmühltal, Michael Völker at the opening, "new forces – and inspirations for the guests of the exhibition – arise from this connection."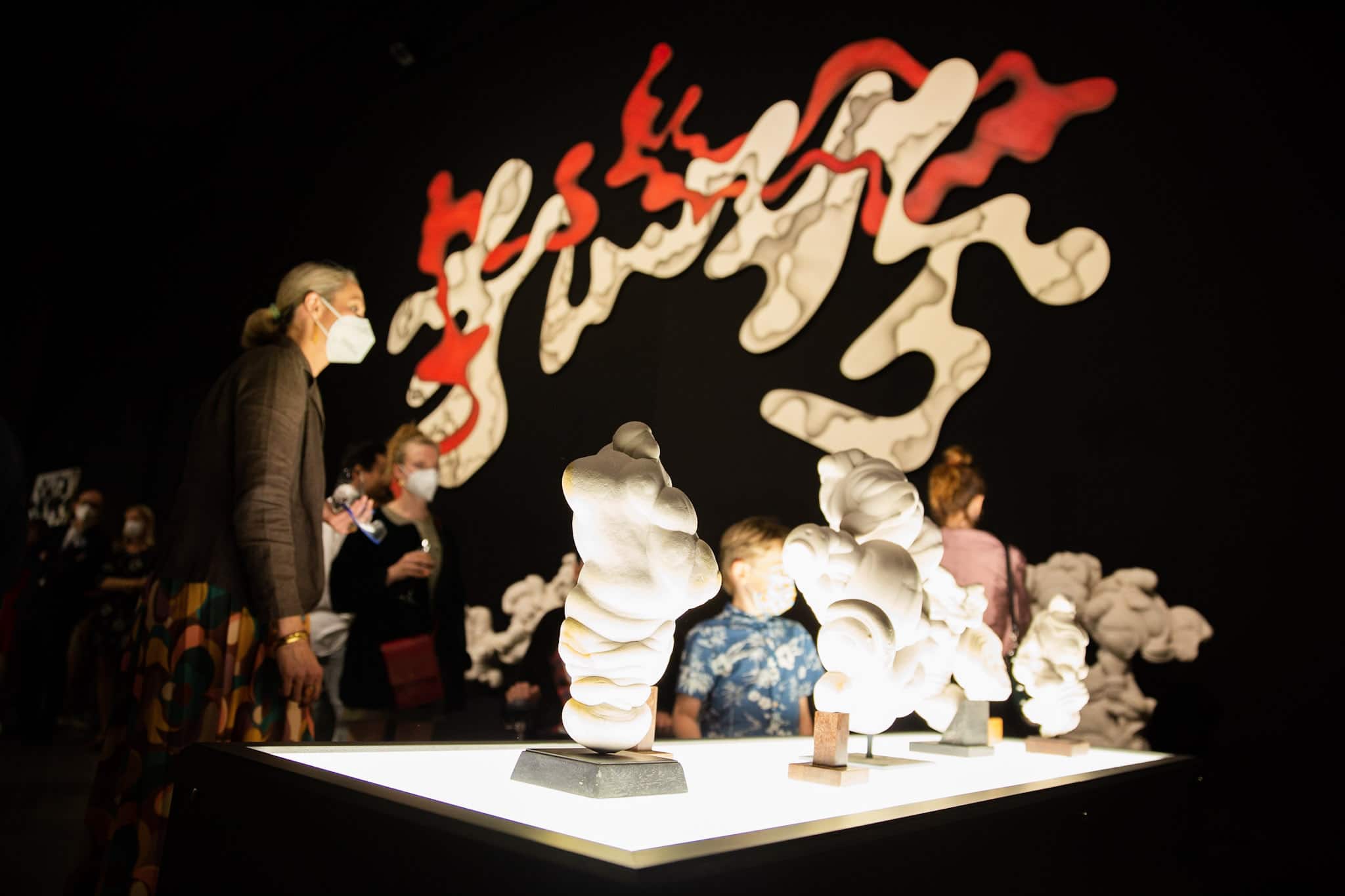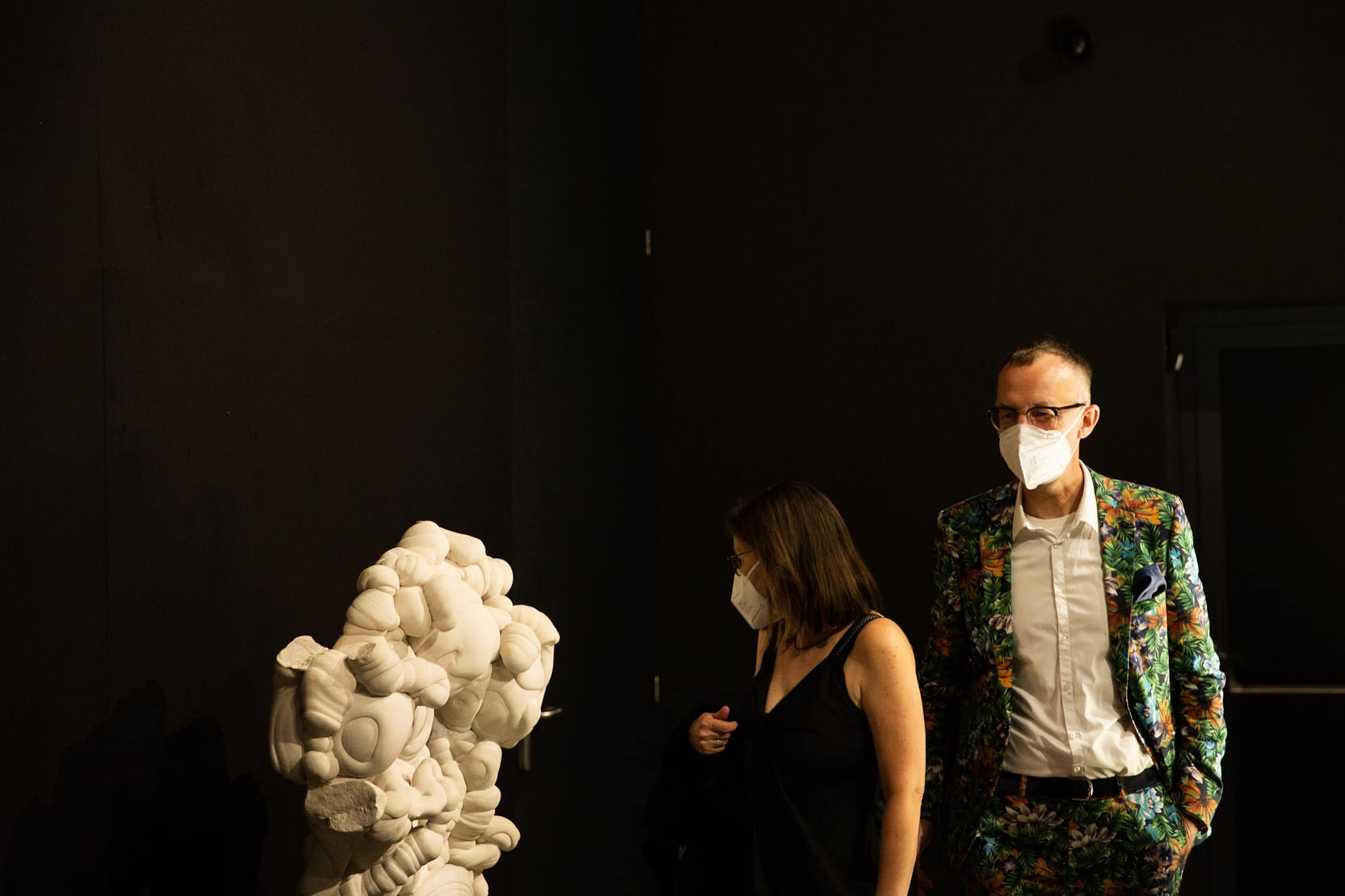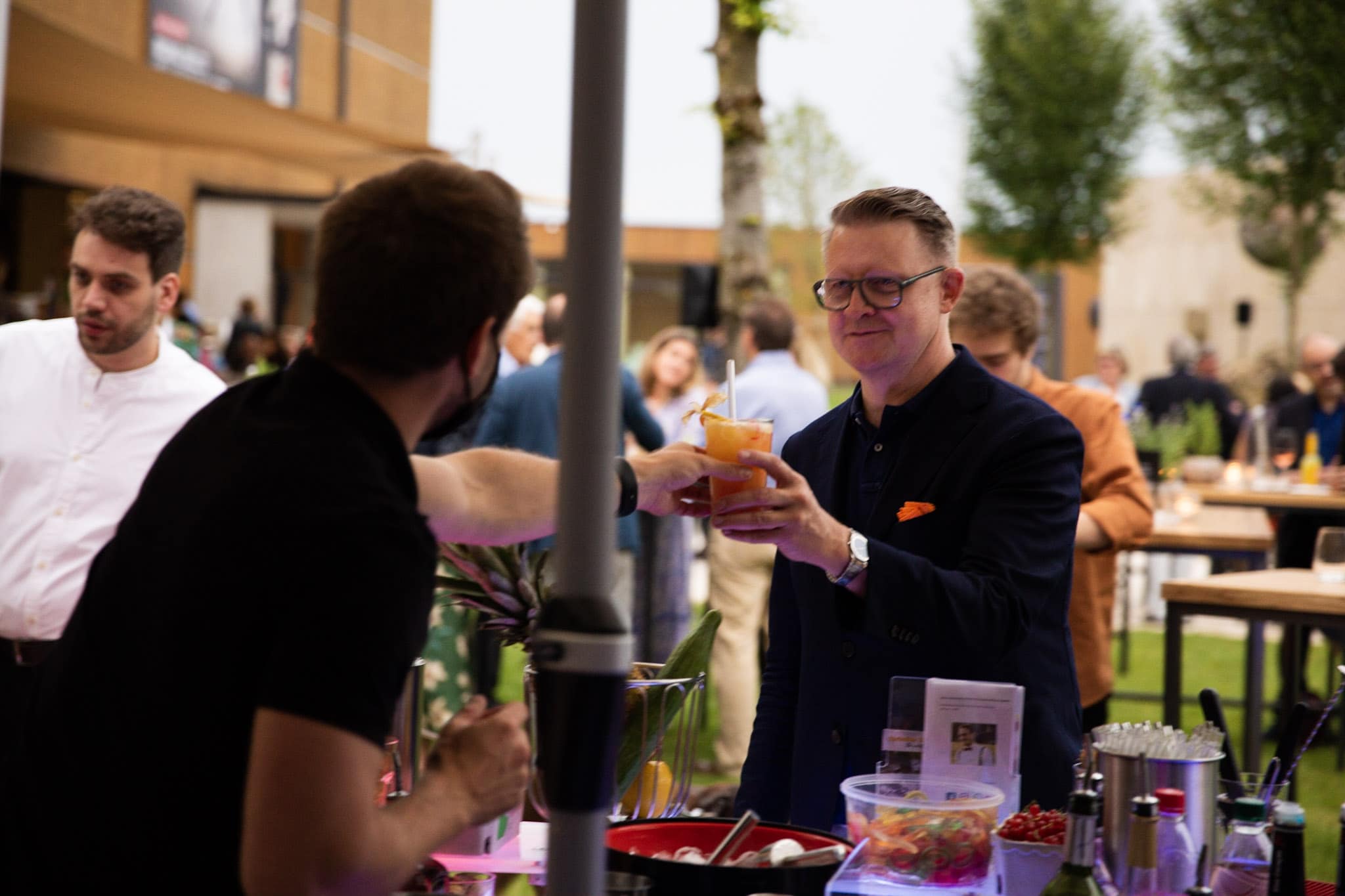 Photos: © Benjamin Hoffmeister, Dinosaurier Museum Altmühltal
Curated by renowned art consultant Mon Muellerschoen, the exhibition is a lively interplay between the 30-million-year-old mineral rarities and the work of a contemporary artist. Judith Milberg said, "The Gogottes are sculptures rounded and twisted out of sandstone. It is unbelievable that nature alone has modelled here. In their dynamism and formal language, I found something again that had always occupied me in my artistic work." Michael John Gorman, founding director of Biotopia Natural History Museum Bavaria, said, "Too often science and art are separated. Here, both come together. Contrasts thus give rise to new perspectives and visions."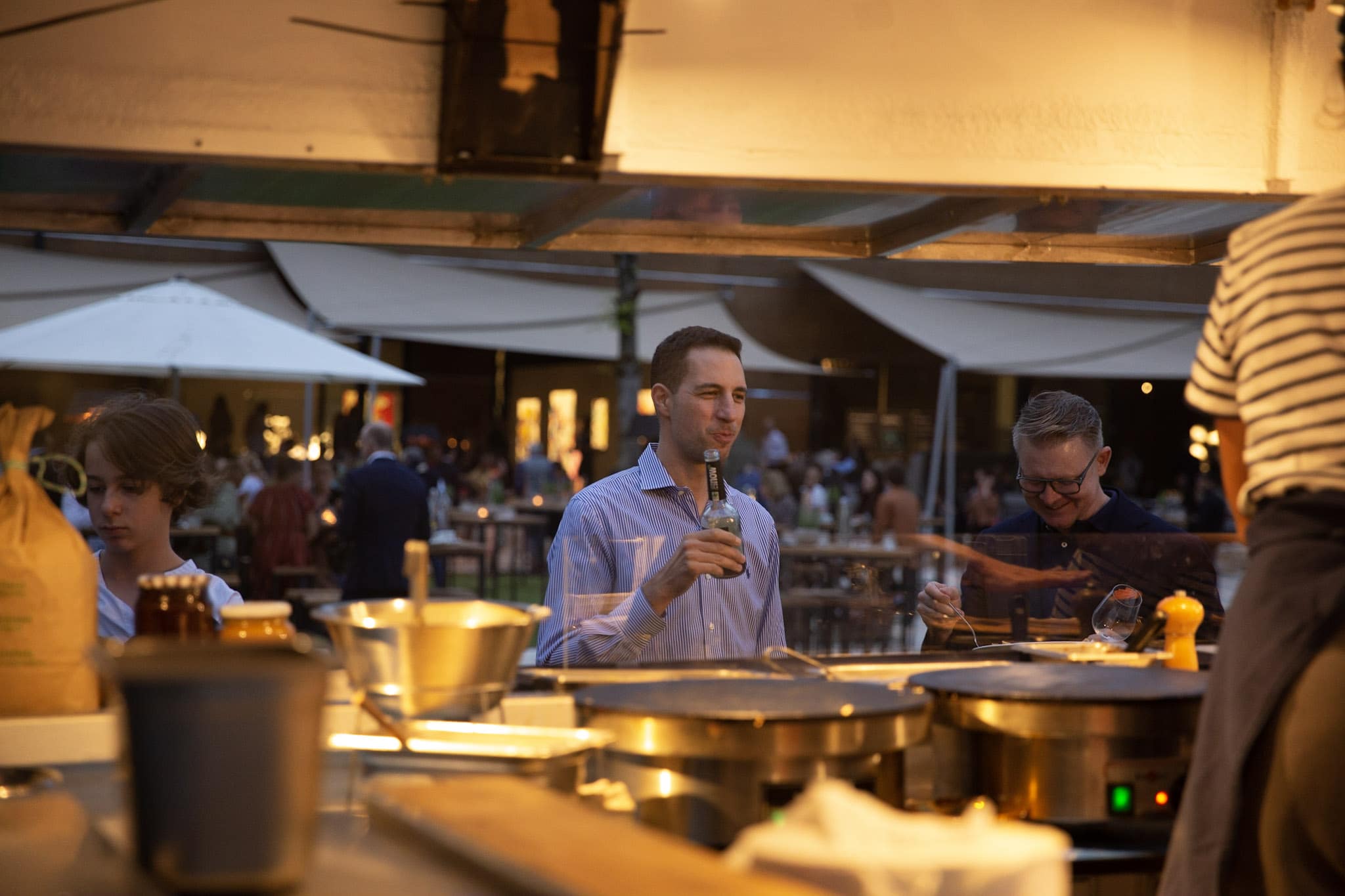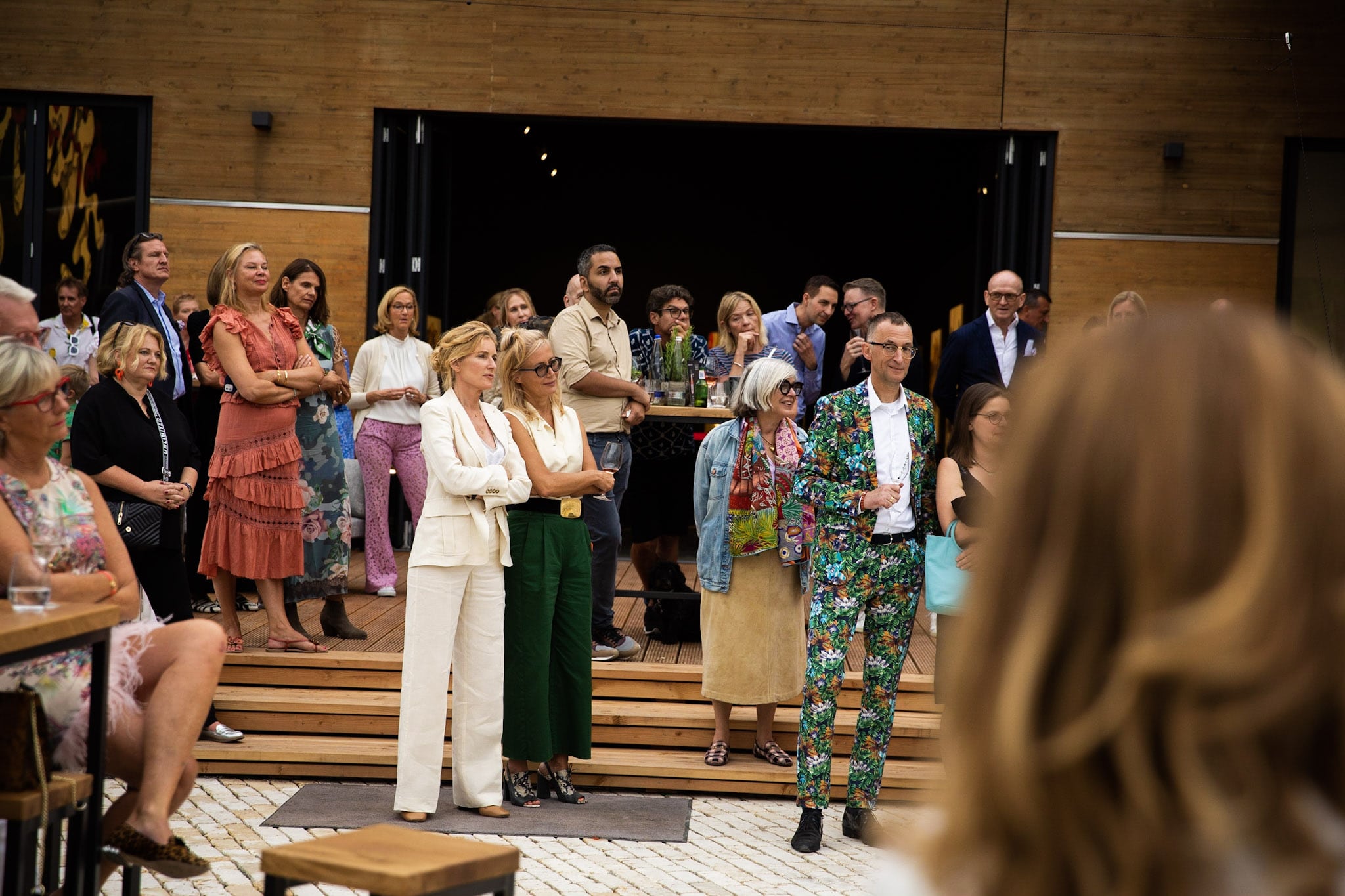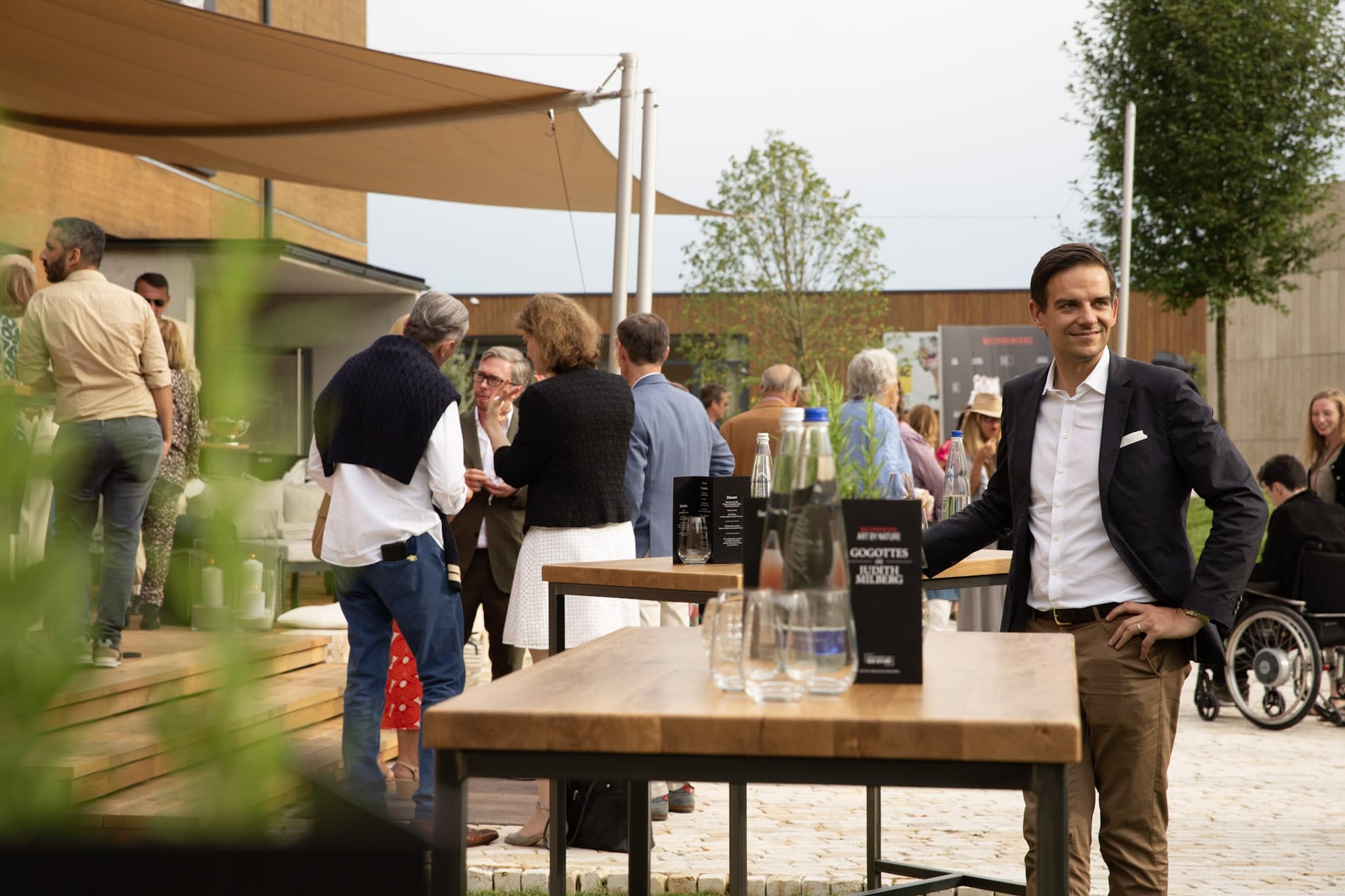 Photos: © Benjamin Hoffmeister, Dinosaurier Museum Altmühltal
Der feierlichen Ausstellungseröffnung wohnten diverse Persönlichkeiten aus Kunst und Kultur bei, unter anderem die Schauspielerin Maria Furtwängler und Schauspieler Axel Milberg, der Generaldirektor des Bayerischen Nationalmuseums Dr. Frank Matthias Kammel, Annette Heuser von der Otto Beisheim Stiftung, Steffi Czerny, Gründerin DLD sowie Marianne Wille, Dallmayr Kaffee.
Foto: © Sabine Brauer Photos
The Dinosaur Museum Altmühltal presents the enigmatic Gogottes, a 30-million-year-old rarity among minerals, in a special exhibition that is unique worldwide. From 25 July to 07 November 2021, visitors will experience a selection of the best of these extremely rare sandstone formations shaped by nature in the museum's exhibition hall. It is the first curated Gogottes exhibition worldwide exclusively dedicated to the fascinating chalky white creations.
The 26 Gogottes in the exhibition are outstanding specimens of their kind, not only because of their size (up to 250 cm) and weight (up to 1000 kilograms), but above all because of their particularly bizarre forms, which stimulate the human imagination. For every observer can discover something of his or her own in the softly curved, rounded, twisted structures: a snail shell, a gigantic ball of wool, a sleeping Buddha, an armadillo, cream or cloud formations – fascination for all viewers.
Gogottes come from the dune sands of the area around the French town of Fontainebleau, about 70 kilometres southeast of Paris. Geologically, the bizarre, soft shapes are so-called concretions. These are accumulations of minerals that solidify deposited sedimentary rock. Exactly how the mysterious Gogottes were formed is not fully understood. Presumably, quartz crystallised from the groundwater in the region and solidified the sand of former dunes into bizarre shapes.
In the 17th century, construction workers accidentally discovered the extremely rare quartz sand veins near Fontainebleau. France's King Louis XIV loved the mysterious minerals and had his park at Versailles decorated with them. Later, the shapes inspired surrealist artists such as Jean Arp and the sculptor Henry Moore. Today, exceptionally high sums are paid for the Gogotte beauties.
Born in Munich, Judith Milberg studied art history and Egyptology. While still a student, she founded an art management company, curated exhibitions, published books and archived private art collections. She also conceived and realised art and cultural projects for business, museums and cultural institutions. Judith Milberg has been working as an artist for 17 years. For her, being an artist means finding the inner path to form. A process that took until she was ready to exhibit her works for the first time in 2017.
Foto: © Linus Müllerschön
With the kind support of our partners:
With the kind support of our partners: