Park and museum are open
daily 9 am – 6 pm.
Delicious organic food and refreshing drinks – you'll be served at your table in our lakeside restaurant (inside & outside).

We are looking forward to your visit!
Dinosaur Museum Altmühltal
– Museum hall air conditioned with renewable energy
Experience science – grasp knowledge – understand facts – that's what the Dinosaur Museum Altmühltal is open for all year round. Here you can have an exciting time whatever the weather. From life-size, science-faithful replicas to exciting original fossils and fun hands-on activities, the dinosaur park in Bavaria has the best to offer for every prehistoric fan. A great experience for all groups and ages!
Dinosaur Time in Early Summer
On the adventure trail through a beautiful natural forest, young and old go on an exciting journey through the ages of the earth. Over 70 life-size prehistoric animals bring the giants close enough to touch.
The museum hall, which is air-conditioned with regenerative energy, presents fossils and original skeletons, including world sensations such as the only original skeleton of a juvenile T.rex and the oldest Archaeopteryx.
For the break in between, we offer you a varied assortment of drinks, delicious meals in organic quality or coffee and cake in our restaurant.
Roofed hands-on activities for up-and-coming palaeontologists and several adventure playgrounds invite visitors to explore and discover.
Whatever the weather, a trip to the Dinosaur Museum is definitely worthwhile!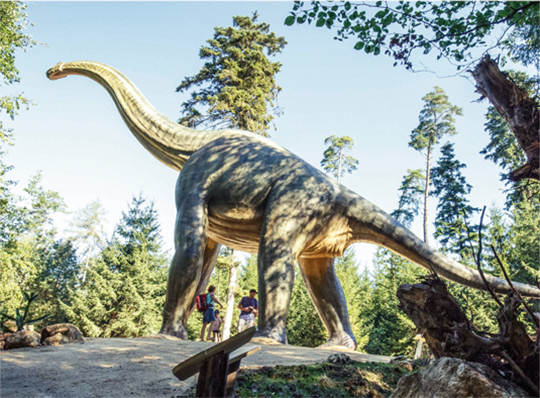 MARVEL
What was it like when pterosaurs, land dinosaurs and sea dinosaurs populated the earth? What happened to make the dinosaurs extinct? On the 1.5 km long adventure trail of the Dinosaur Museum, visitors embark on an exciting journey through the different eras of the earth and immerse themselves in 400 million years of evolutionary history. The more than 70 life-size replicas give you the feeling of being part of prehistory yourself. You can not only look at the mighty Brachiosaurus, the giant Diplodocus or the dangerous T. rex, but also touch them and learn to understand the well-founded scientific findings on the prehistoric giants at first hand.
PARTICIPATE
Knowledge is also imparted through active experience at the Dinosaur Museum. You can experience the work of the palaeontologists by searching for fossils and million-year-old shark teeth yourself. The hands-on stations invite you to compare your own ideas about how big, how fast or how strong the dinosaurs were with your own abilities. Whether it's racing or touching a dinosaur bone – knowledge about the time from the Palaeozoic era to the present day grows with every area you experience with us.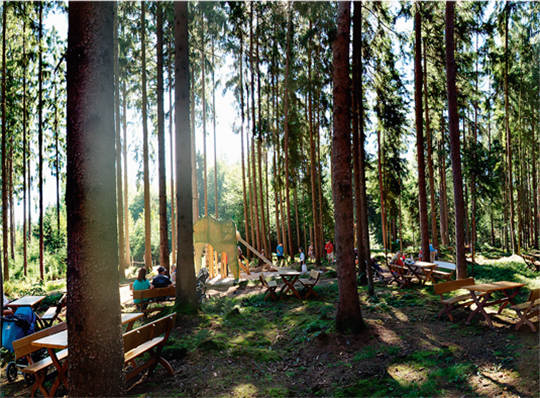 ENJOY
Those who need refreshment after the exciting encounters with the prehistoric giants and the million-year-old fossils can get it in beautiful nature in the restaurant by the lake or in the cozy forest beer garden. We offer our guests dishes in organic quality. Of course, vegetarian and vegan alternatives are available. Please contact us if you have any food intolerances or allergies. Playgrounds within sight of the restaurant delight children of all ages, while adults can relax and enjoy their break.
World sensations – the only skeleton of a young T. rex, an original prehistoric bird and the giant flying dinosaur Dracula
1.5 km round walk – barrier-free (except for access to one exhibit)
Real fossils – dig them out yourself and keep them
Experience science – get in touch with primeval times
Two large playgrounds – each within sight of our gastronomy.
Regional and sustainable gastronomy, almost exclusively in organic quality.
Tickets are available at the entrance.
Forest beer garden – for a relaxed snack break in the middle of an idyllic clearing
Free parking for cars, bikes & co.
Museum shop – suitable souvenirs for every dino fan
Large selection of vegetarian and vegan dishes
Getting there – directly on the A9
Bus connection – conveniently directly to the entrance
Directions
The Dinosaur Museum Altmühltal is only 2 kilometres from the motorway. There is sufficient parking space for cars and buses. Those who use the public transport system can reach us by bus from Ingolstadt main station. The grounds are built barrier-free except for access to one exhibit.
Dogs are allowed on a leash.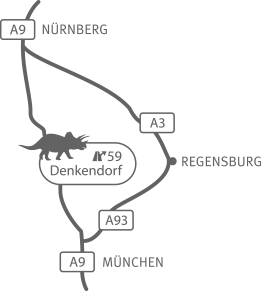 Admission prices
| | |
| --- | --- |
| Day Tickets | |
| Children, 0-3 years | free |
| Children, 4-14 years | 12,90 € |
| Students | 14,90 € |
| Seniors 60+ | 18,90 € |
| Adults 15+ | 19,90 € |
| | |
| People with disabilities | |
| Children | 10,90 € |
| Adults | 14,90 € |
| | |
| Families 2+2 (2 Adults & 2 Children) | 54,90 € |
| Families 2+3 (2 Adults & 3 Children) | 59,90 € |
| Additional children | 10,00€ |
| | |
| --- | --- |
| Group Day Tickets | |
| Children in School- and Kindergarten groups | 10,90 € |
| Adults (from 10 persons) | 18,90€ |
| >> Sign-Up for groups at dinopark-bayern.de/en/groups | |
| | |
| | |
| Annual Tickets | |
| Children & Students | 36,00 € |
| Adults | 55,00 € |
| Families 2+2 (2 Adults & 2 Children) | 149,50€ |
| Families 2+3 (2 Adults & 3 Children) | 165,00€ |
| Additional children | 24,00€ |
Prices per person. Tickets only available online.
| | |
| --- | --- |
| | Payment by EC and credit card is possible everywhere in the park and museum. |
Frequently Asked Questions
Are children allowed in the park unaccompanied by an adult?
Vincent Völker
2021-06-17T16:51:39+02:00
Are your kids between 8 and 14 years old and want to go out on their own with their friends? No problem, just keep the following in mind:
Fill out the liability release statement for your child/children, sign it and hand in the statement along with a copy of the parent/guardian's ID at the ticket office in the Dinosaur Museum. There the declaration will be deposited and will be valid for further visits of your children in the current year. You can get the form "Declaration of exemption from liability" here or at your first visit at the cash desk to fill out.